SummerHouse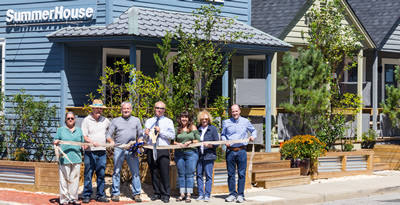 On Saturday, September 9th, 2017 at 12:00pm, Mayor O'Neil and members of the Council and representatives of the Highlands Business Partnership will join SummerHouse to cut the ribbon at their new downtown business at 30 Jackson Street, Highlands, New Jersey.
SummerHouse is a modern take on summer seaside cottages. There are ten cottages surrounding a courtyard. Each cottage accommodates up to two guests and each features a porch, kitchenette, modern bath with open shower, queen size beds, air conditioning/heat a smart TV and hi speed Wi-Fi. The courtyard is perfect for sharing the open fire pit, grilling area, 20-person picnic table and a secure storage area for kite board gear, bikes and surfboards. One cottage is dog friendly with a private deck for man's best friend while you are enjoying the beach. Other cottages feature extra outdoor showers, exposed vaulted ceilings and extra day beds. Everyone also has access to the main house with a gourmet kitchen, living room and porch perfect for socializing or relaxing.
Bill Iler and his two business partners restored the 1920-era cottages using a modern design but highlighting the vintage architectural elements. Bill is a local attorney, real estate agent and construction manager whose family has been in the Rumson and Middletown areas since the late 1800's. Bill has invested in Highlands for more than 25 years. The vacation cottage project combined his passion for real estate and construction with his appreciation for the history of this area.
Bill says the cottage guests will benefit from the unique, excellent location of Highlands: "we are steps from NYC by ferry, making this one of the few waterfronts you can reach by foot from Manhattan in a luxury, 40 minute commute. I think Highlands offers a one of a kind location to all who come here: at the foot of the highest mountainside park on the east coast- perfect for hiking and biking, at the edge of miles of great public beaches- with some of the best surfing and fishing on the coast, and offering excellent dining options. There is no other town on the coast that has all these choices in one walkable location."
SummerHouse is open from March to December, weather permitting. Rentals include daily, weekly and monthly options and next year will plan to offer full-season rentals for select cottages. Group events are welcomed and the courtyard offers a unique spot for art and music events, too. For more information or to make reservations visit the website njsummerhouse.com or call 732 245 7523. Please join us as we celebrate this Highlands milestone at SummerHouse on Saturday, September 9th at noon.