Joe Amiel's Bay Pointe Inn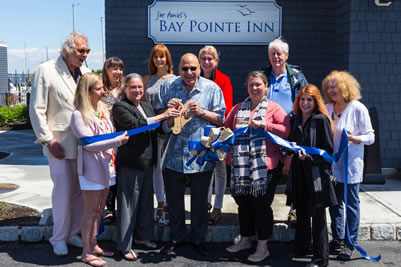 Chef Joe Amiel, proprietor of Bay Pointe Inn, opened for business May 4th, 2017. Bay Pointe Inn is the newest edition to Highlands spectacular waterfront dining. The restaurant specializes in steak and seafood with a twist, creating regional dishes from all over the United States. They use only prime-aged steaks and sustainable seafood. Some of their signatures include hot popovers in lieu of bread service, a delectable raw bar, and their Fisherman's Platter, coconut shrimp and crab cakes are popular items on the menu. Joe is working with nationally recognized nutritionist, Dr. Felicia Stoler, DCN, MS, RDN, FACSM, FAND, to develop gluten free, vegan and vegetarian options that will be featured on the menu.

Joseph Amiel, president/Managing Partner of Ocean Club Grille LLC, has a wealth of experience in restaurant development, operations and marketing. With over 50 years in the restaurant and catering business as an investor, managing partner, owner and consultant, Joe has been associated with some of the most celebrated and historical restaurants in the country. Joe began his career in New York City with family operations at Jack Dempsey's, Turf Restaurants, and Leo's Eateries. He went on to manage Charlie Brown's for restaurant associates and became the associate director of the Rainbow Room. Joe served on the newly formed Sidewalk Café Commission of New York City with Warner Leroy of Maxwell's Plum and Tavern on the Green. Joe was also the Director of operations for Celebrity Hosts Inc. in Boston, which opened restaurants with major professional athletes. In New York, he owned the Symphony Café among others. In New Jersey, he owned and operated the Evelyn's Seafood chain and the Old Mill Inn in Spring Lake Heights.
After selling the last of his restaurant operations in 2001, Joe started Amiel Capital Group, which arranged financing for several start-up companies in restaurants, entertainment and transportation and provided management buyouts for restaurant chains. Presently, he consults for private equity firms interested in the hospitality and entertainment sectors. Joe is currently serving as Managing Partner for Sandy Hook Holdings LLC. He has received numerous awards for business development and community service.

A pioneer in using the internet for restaurant marketing, he developed programs that were copied and duplicated by many of America's most successful restaurant companies.
When asked why he picked Highlands, Chef Amiel said, "Highlands picked me! And I couldn't be happier". He was approached by Jim Bollerman, owner of Sandy Hook Bay Marina in September of 2014 and asked if he would be interested in being a part of the new up and coming Marina project. Joe was very interested, and signed on in May of 2015. He loves the area, and has many friends in the restaurant business in the surrounding area.
The Bay Pointe Inn has a beautiful dockside Captain's Bar, with live music throughout the summer. The breathtaking views of Sandy Hook Bay and the Manhattan skyline are not to be missed. Joe Amiel's Bay Pointe Inn is open all year round. Summer hours are Sunday - Thursday, 11:30 AM - 10:00 PM, and Friday & Saturday, 11:30AM – 10:30 PM. For more information, or to make reservations call 732-629-8000. Visit their website, at www.Joesbaypointeinn.com. Please join us as we celebrate this milestone with our friends at Bay Pointe Inn. Highlands is proud to welcome them to our business community.