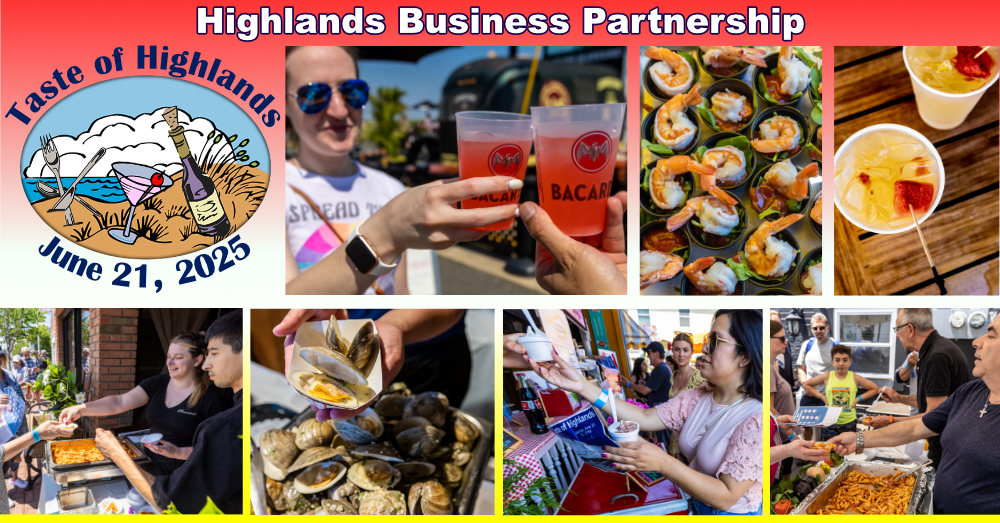 Sample Scrumptious Food & Cocktails from our Establishments
Seventh Annual Taste of Highlands sponsored by the Highlands Business Partnership, will be held on Saturday, June 23, 2018 from Noon-5:00 PM. You won't want to miss this spectacular event with five hours of scrumptious samplings and cocktails at over twenty restaurants and eateries. Ride the party limousine bus or simply walk to our great restaurants. The event will take place rain or shine. Tickets are $45.00 and include a drawstring backpack with a map and free transportation and parking.
Taste of Highlands will celebrate the best of the thriving hospitality of the many great restaurants in Highlands. Nowhere else will you find such an eclectic selection of cuisine served at over twenty restaurants and eateries in a half-square mile. Ticket holders will check in Huddy Park on Bay & Waterwitch Avenues and pick up their map and complimentary backpack. A party limo bus will be waiting to escort visitors to the participating restaurants. You will be greeted at each establishment and present your map to be stamped. Visit ALL stops and be eligible to win a $200 BID BUCK good at any participating establishment. Place your fully stamped map on the party limo bus by 5:00 PM for your entry to be considered.
You can purchase tickets at any participating establishment, online or in the HBP Office, 732-291-4713 or email hbpadmin@highlandsnj.com.